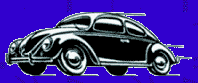 These pages have been put together as an aid to anyone who is considering building, or having built, a type 1 VW engine for use on the roads.
The contents of this document have been put together using 12 years of experience on Beetle engines along with books read and people spoken to.
Contents:
what do you want 2007 vs 2165 Build Comparison
Crankshafts and flywheels What Year Is It?

Con-rods Tapping Oil Galleries
Cylinder & piston sets Alternator Wiring Guide
Cylinder heads Building a Fast and Reliable Engine
Camshafts and the valve train Basic Head Porting
The oil system Adapting Non-VW Wheels
Ignition Air/Fuel Ratio Monitor:
Carburetors Aluminum Wheel Polishing
Exhausts Straight Cut Cam Gears
Clutches Bolt On Sand Seal Pulley
Running for the first time Ceramic Muffler
Useful data Choosing the Right Distributor
10 Restoration Tips Competition Roll Cage
Cranking Up The Volts CSP Torque Bar
Disc Brake Kit Installation Guide "The Doors"
Fuel System Boost Headlight Upgrade
Horn Wiring Installing Early one piece window
Front Suspension Adjusters Understanding Your Starter
VW maintenance Rocker Shaft Assembly Guide
Volts, Amps and Waterwheels Oil Pump & Camshaft Selection
Super Slick Shifter Porting and Polishing VW Type 1 Heads
Building a Reliable and Powerful Street Engine How to Make a Street car Launch
Bodywork & Painting How To Build A Carson Top
Welding / Metal-Finishing Rust Removal using Electrolysis


http://asmracingcircuits.tripod.com
Contact Information

General Information: eagleeye@di-ve.com

Webmaster: eagleeye@searchmalta.com