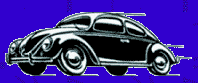 <![if !supportLineBreakNewLine]>
<![endif]>
By Matt Harris
2007cc Engine

Specifications

I built this engine in December of 1999 and began driving it in February 2000. It had a 78mm Berg crank; stock style Berg rods, clearanced and rebuilt with stock bolts; 12 lb. Flywheel; Berg 300 cam (an Engle 120 with a small base circle to clear their crank); helical aluminum cam gear; Berg (Mahle) stroker 90.5's with Total Seal 2nd rings; Berg 861 heads (oval ports on a 040 heads, semi-hemi'd, and 63.5 cc chambers); 38 degrees of timing; 42 DCNF's with 135 main, 180 air, 1.32 idle corrector, 60 idle jet, and 34mm venturies); stock used German doghouse fan housing painted black with catalyzed urethane; a new doghouse cooler; 26mm Berg/Schadeck pump; 1.1 rockers on Berg solid shafts; .160" deck; 6.6:1 compression ratio; Berg Equalizer; and a Kennedy Stage 1 pressure plate with stock disc.

Performance

Well going from an old beat up stock 1600 to this engine was a definite step up. I set the compression low so that I could run 87 octane during the cold months then 92 during the summer when it warmed up and still have a cool running engine. Well that didn't end up working out; the engine consistently ran 231 degree F oil temps. This temperature was taken using a chemist's pyrometer in the dipstick tube. The Berg oil temperature warning dipstick was also on consistently (and yes, I calibrated it using a pot of boiling water). It didn't matter what gas I ran, what timing I used, what jets I threw in the carburetors, or how fast I drove. If I went 65 mph on the freeway, it would simply take longer to reach 231 than if I went 75 mph on the freeway.

This was disheartening to me after spending $6800 on this engine and sacrificing performance (i.e. compression) just to get an overheating pig. So I put a Setrab 190FP external cooler on with a Mocal sandwich plate thermostat and that took care of the hot oil.

From February 2000 to June of 2002 I put 36,000 miles on it. This included three trips to Phoenix, three trips to San Diego, one trip to Solvang, one year of driving 42 miles per day to LA for medical school, and one Berg cruise from my house in Lakewood, CA to Colorado during which I put 3,500 miles on the engine in two weeks. The engine ran and ran and ran and ran some more, with decent performance.

I took it to Carlsbad once, where I could only muster a 16.4 second ET and in my full weight Super Beetle, with the fan belt on. Then I won the trophy class at the first Drag Day with a best 1/8th mile ET of 10.02 with no fan belt and everything I could take out of my car. I could feel that the engine was pretty much done making horsepower by 5500 RPMs. Given these figures, and based on similar engine's performance on the dyno, I would guess that this engine had about 90-95 HP at the rear wheels.

Needless to say, after 36,000 miles (at which point a valve job was needed), it was time for some upgrades. Upon tear down, the cylinders looked beautiful, the case was perfectly standard all the way around, the crank only needed a polish, the flywheel a regrind, and the rods rebuilt.


<![if !vml]>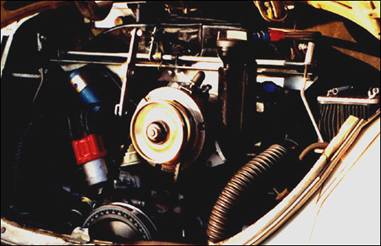 <![endif]>
<![if !supportLineBreakNewLine]>
<![endif]>
2165 Engine
Specifications

I had the case lifter bores bushed with aluminum by Rimco this time as my old engine had a rather loud valve train. I used the same 78mm Berg crank; the Berg stroker rods were rebuilt by Rimco (Rimco said they needed it badly); Rimco 94mm cylinders (machined to fit the hole for the 90.5s) and pistons; stock rings that I hand gapped to .018" for the top and 2nd; and a Web 121-125 cam ground on a 1.040" base circle and 112 lobe centers.

The specifications for the cam are .490 lift on the intake valve and .478" lift on the exhaust valve with 1.1 rockers, 298 advertised duration on the intake and 288 advertised duration on the exhaust, with 270 degrees at .050" on the intake and 262 degrees at .050" on the exhaust. The cam came retarded 2 degrees so a 4 degree washer was added to result in 2 degrees of advance. I also used So Cal Imports $40 straight cut gears that went together perfectly; the same cooling system; the same 42 DCNF's with 145 mains, 170 airs, 1.32 idle air correctors, 60 idles, and 34mm venturies. This time around, the heads used were AJ Simms street/race swedge port 044's (I swear you could rope eggs down the intake ports); 66 cc hand shaped chambers; Berg springs; Berg retainers; Berg shims; Berg keepers; and Manley 42x37.5 valves. With the 66 cc chambers, I massaged the deck to get .006"-.011". A .040" copper head gasket resulted in .046"-.051" on the deck, yielding 8.2:1 CR. I used the same pressure plate, same flywheel, and an Art Thraen Copperhead clutch disc.

Performance

Oh boy what a step up this was! I swear I could hear the heads sucking in the air with a distinct swooshing noise when I broke this engine in (I still get goose bumps thinking of the sound). This engine is just much more fun to drive with more power all over the place. It easily pulls to 7000 RPMs now and is fast enough to put you back in your seat quite a bit. If you revved the old engine, it would take a second to catch up with your foot giving it gas, whereas the new engine revs almost exactly in time with you giving it gas. With tuned 42 DCNF's, it made 137.2 horsepower and 142.8 ft/lb of torque at the rear wheels at the 2002 VW Trends Dyno Day! Not bad for my daily driver! Needless to say my friends and I at Dyno Day were very impressed with those numbers.

I still continue to drive the crap out this engine as well. The engine was reinstalled in July 2002, and at the time of writing (November 2002), I have 7,000 miles on it with 3 trips to San Diego, and 6 months of driving 42 miles per day back and forth to LA for medical school, and throughout Southern California. The engine is much more quiet than the 2007 and this is with a bigger 1.1 rocker cam; go figure. The engine just runs and runs and runs some more. We'll see how it looks in another 33,000 miles when I tear this one apart for maintenance or upgrades.

The oil temperature has never been above 210 degrees F. with the fan on with my external cooler, occurring during an 85 degree day with the engine at 4000 RPMs for 35 miles (I was in a rush to get to the beach)! On your normal Southern California days with temperatures in the mid to low 70's the oil never sees 200 degree F, and usually gets to about 190-195 on my 21 miles drive home from school at 3500-3750 RPMs. At night I can drive as fast as I want and not worry about the oil temps because the ambient air temp is much cooler.

Closing Thoughts

One thing to note is that I can't seem to get the clutch chatter to go away in first gear for some reason. If I rev it up to about 2500 RPMs it doesn't do it but leaving the line at about 1500 gives bad chatter.

In summary, the fun factor for this engine vs. the last 2007 is not even close. This engine is so much more fun to drive it's ridiculous. People ask me what I'm going to drive when I'm a doctor and I just tell them I'm going to drive my Bug forever because you can't find a more fun car!