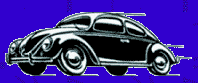 by Dan Murphy
Restoration tips from someone who has learned the hard way so you don't have to.
Never, NEVER throw away parts you remove from your car. If the replacement part does not fit correctly, you can use the original to compare it to. New parts might be available when you start your restoration, but may become obsolete before you finish the job.

Know your history! Research your car to find out what is original and what is not. Painting a car the wrong color or even the wrong shade can cost valuable points in a show, and perhaps even reduce the value of the vehicle.

Try to make the car as mechanically sound as possible before disassembling it for painting. Make a trial assembly of the motor transmission and front axle before painting. Sometimes superceded parts will require additional fitting, and doing this on a freshly painted car can be stressful. So the more trial fitting you do, the less stress you will have in the final assembly.

Pay as much as you can afford to purchase a car that is rust-free and complete. Look for a car with as few alterations as possible. A complete car will save you both money and time when searching for parts. This will also give you most of the information you need on what was original on your car.

Take photos or a video of all parts of the car before beginning restoration.. Pull out the trunk liner under the front hood and take pictures of the wiring. Take photos of the engine compartment, headliner, seats and carpet. Shoot at least a couple of rolls -- the cost of the film will be well worth it when you need to remember how something was fitted.

Purchase a box of heavy-duty sandwich bags (Ziplock preferred) and bag and mark hardware as you remove it from different locations of the car.

Install wiring loom AFTER the car is painted.

Make sure you provide your body man with all the small parts (taillight housings, license housing, etc.) so they all match. I can't tell you how many times I've seen a car with a taillight housing of another shade!

For engine sheet metal detail, powder coat as much as possible. Paint will not withstand the extreme temperatures inside the engine compartment. Porcelain coat the intake manifold -- this will prevent the heat riser tube from discolouring.
Most importantly, choose your service provider wisely. This includes paint and body shop, plating shop, etc. Make sure they can handle the job, and ask to see an example of their work. When you find the right person for your project, be sure to provide them with written detailed instructions for ALL of the work to be performed. Be as specific as possible in your instructions -- leave no stone unturned.